Visit the replica of Althea Sherman's 1915 Chimney Swifts' Tower.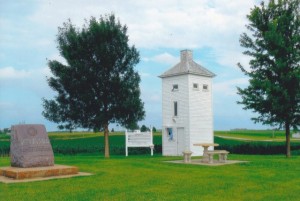 The Friends of the Sherman Swift Tower have erected a replica of Althea Sherman's 1915 chimney swifts' tower at National, Iowa, with the goal of chimney swifts nesting there. Althea Sherman (1853-1943) was a nationally known ornithologist who studied birds at her home in National, Iowa. Best known for her study of the chimney swift, she built a 28 foot tall building with an artificial chimney down the center to attract the elusive swift.  Eccentric, exacting, creative, and dedicated, she left a wealth of historical bird research at her death in 1943.
National is on Highway 52, six miles north of Garnavillo, Iowa. Signage at the site and an audio recording tell more of the history, along with a monitor that allows viewing of the swifts on their nest. The National Cemetery contains the gravesites of the Sherman family. Visitors are always welcome.
Tours of the tower replica will be given in the fall or by appointment, when swifts are not nesting in the tower.  For more information, call 563-536-2258 or 563-964-2535.
The Garnavillo Historical Museum in nearby Garnavillo Iowa has Sherman artifacts.
Drawing done by Althea Sherman of a chimney swift on the nest in her original tower. Photo courtesy of State Historical Museum of Iowa—DesMoines. Photographer: Chuck Greiner